I like to think of my musical journey as a color wheel.
Colors that blend and give rise to new shades and new "hues."
It all fit together like an already written pattern, a response from the universe that leads us on up and down the mountains, where there are difficult moments and wonderful ones.
Last night made me feel close to the top.
I was on stage physically but with my mind I was flying up high between the moon and the volcano.
This summer together with Simona we took many road trips, listened to a lot of music and met new musicians, imagined what this highly anticipated opening for Ben Harper would be like, and I must say it went SUPER well.
On the way to the theater I put on the record White Lies For Dark, a very important Ben record for me, Inside is the track Fly One Time which has always been one of my favorites.
Listening to this song in the car for me was a cathartic moment full of emotions, in my mind I was retracing my path and thinking of Roberta a few years ago playing Ben Harper songs around the clubs and after a few years... here we are sharing with Ben one of the most beautiful stages in the world with my beloved Etna behind us, a daydream.
When we arrived at the theater I was very excited, along with us was my sound engineer Orazio ready to help me with sounds and guitars.
Soundcheck begins at about 7:20 pm.
One thing I noticed right away were the carpets on the stage floor that gave me even more of a feeling of "Home."
I started playing the first notes of one of my songs "Where You Breathe" with my Martin in open tuning, I also try vocals and my Gibson 330. My set is 20 minutes: 3 songs from my last album "Save Lives With The Rhythm," a new song I wrote this summer and a Nick Drake cover. Set list:
⁃ Where You Breathe (SLWTR)
⁃ Everybody Needs Someone (New Song)
⁃ Hope (SLWTR)
⁃ Pink Moon (Nick Drake)
⁃ The Way (SLWTR)
Soundcheck goes very well, as soon as I get off the stage the pre-show anxiety begins. I don't really like waiting but with Simona's support I managed to get through that hour or so that separated me from the stage.
I receive a message on Instagram from Freddy the bassist of The Delines (An American band) whom I met with Simo two weeks ago at a festival.
Freddy writes to me that Ben's keyboardist is a great friend of his and that he will come and say hello to me in the dressing room (here I am reminded of the metaphor of interlocks and the color wheel).
In the dressing room I meet Chris Joyner (Ben's keyboardist) and Leon Mobley (percussionist) we exchange a few words and also wait to see Ben who still doesn't show up. The anxiety is getting stronger and stronger so I pick up my guitar to review and relax, I hear the production manager saying, "10 minutes to go," I finally let out a sigh and change my mood.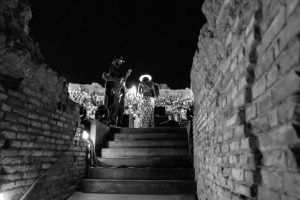 When I get on stage all the fears and anxieties go away, so I start climbing the first stairs to the stage and a blue light almost blinds me
but I manage to get to my seat, there are already quite a few people there so I greet the audience and begin my journey through music.
The audience responds well and in the second song (Everybody Needs Someone) I hear applause even in the middle of the guitar solo, a wonderful feeling that gave me a crazy charge and from that moment I started to really enjoy the stage, I look up and see a beautiful moon, (playing Pink Moon with that atmosphere was really exciting).
I end with The Way last track of my album, on stage I really feel "floating" hard to explain the feelings I have when I play because they are really deep and I feel one with the universe.
When I get off the stage the first thing I usually do is ask Simona's opinion and she tells me that it was a beautiful performance, meanwhile Alex Painter (Ben's Guitarist) stops by and congratulates me along with other musicians. We also start getting lots of notifications on Instagram from people who witnessed the performance and that fills my heart.
To have the confirmation that I have moved people is such a rewarding feeling, because when I play I open my heart and soul completely.
It is almost 10 p.m. and Ben is about to take the stage. Simona and I excitedly greet him and introduce ourselves, I thank him for the wonderful opportunity he gave me and he thanks me for playing, I tell him that when I started playing with my Band in the set list there was always his song "Steal My Kisses" then I ask him to take a picture together and he accepts.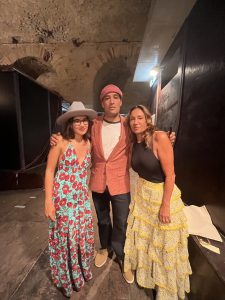 For Simo, August 6 is a special date (Here I think of fate again) because in 1995 her brother Francesco brought the Rem in concert to Catania, a beautiful memory for her and her mom Nica.
There was a magical air last night.
During Ben's concert I got so excited especially when toward the end the drums and guitar of Fly One Time starts. The song says "Now that you're caught between, What you can't leave behind and all that you may never find so fly, just fly Just fly one time" many times we feel stuck between the past and the future without finding answers when the only thing we can do to overcome our anxieties and fears is to live in the present.
That evening I felt I was living fully in the present.
I went over in my mind like images from a movie all my way so far and felt a beautiful feeling of gratitude. This concert gave me a special and unique energy that I will carry with me forever.
There will be ups and downs in this journey but it is important to keep walking and hope, because music will somehow always give me all the answers.
Roberta Finocchiaro